Artistically Geeky
Gogimogi is a whimsical, geeky and artistic design house committed to the study of color through humor and inspired by nature.
Based in Pasadena, California, Gogimogi was founded by artist Golareh Safarian with the intent to bring joy through design and capture a child's wondrous examination of our world.
We revere giggles and smiles and believe children are the source for global hope and true love.  It is because of this that we dedicate our designs to children and to anyone who embraces a child-like sense of wonder and a resolve to see the infinite possibilities of human imagination.
Art on Apparel
We want Gogimogi's designs to be accessible and that's why we make our art available not only through traditional mediums but also through fashion.
The Gogimogi Apparel Line embraces humor, colors and lines and aims to nurture both the artistic and the scientific mind. Our fun tees showcase Gogimogi's whimsical characters, all inspired by flora and fauna, and provide engaging-facts about the source of inspiration, making us the artistically geeky design house.
In addition to art, Gogimogi is committed to quality. All our tees are made with Premium Quality US-made fabric and our silhouettes are carefully designed to provide the greatest comfort without compromising style.
We do not use any tags in our clothing and all care labels are printed with water-based ink. All our digital prints are lead free.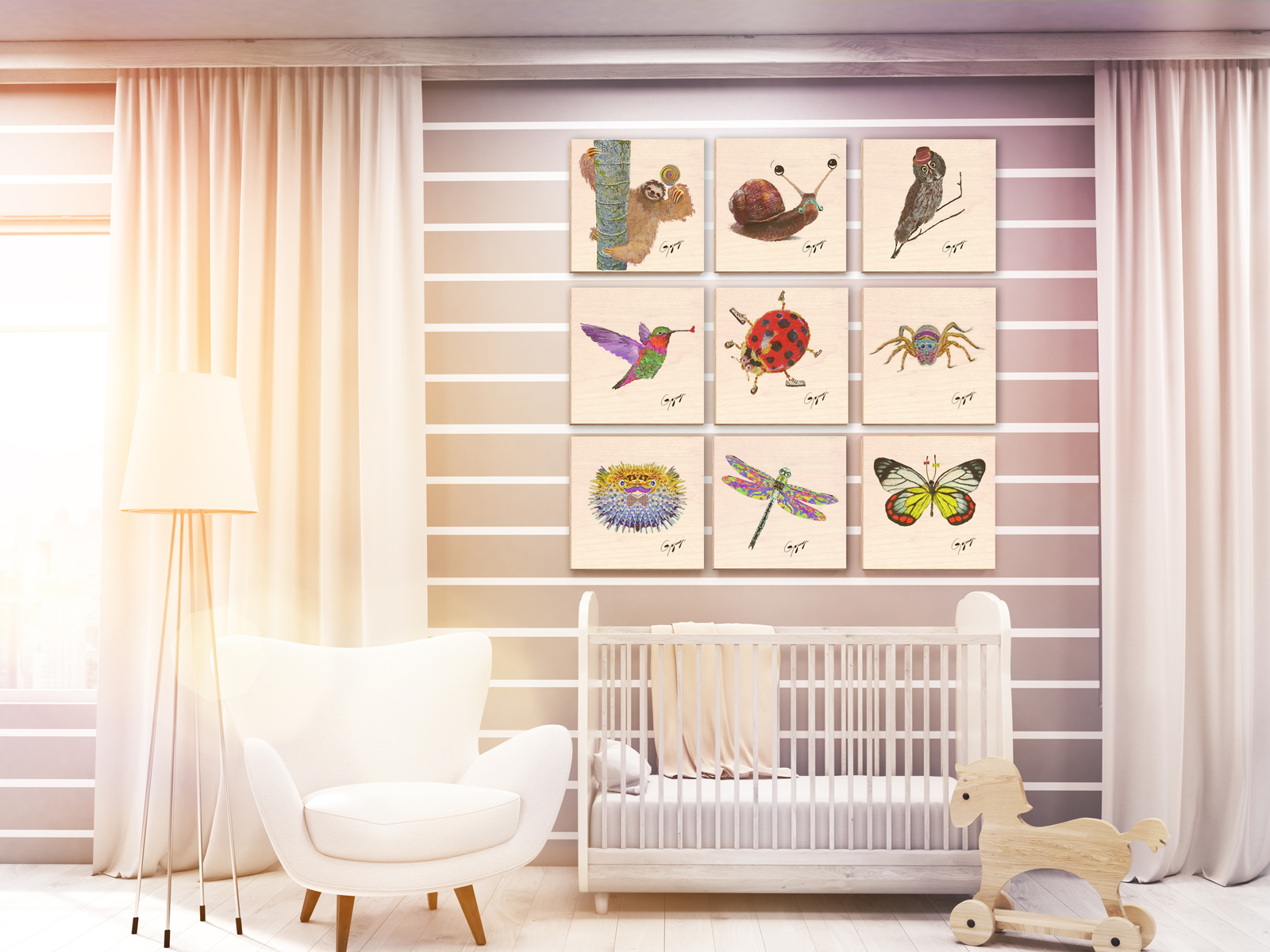 Gogimogi Wall Art
The space you live in sets the mood for the type of life you lead.  At Gogimogi, we believe happiness is the key to success and so we are committed to bringing joy to your space.
Sometimes photorealistic, sometimes whimsical, Gogimogi's designs are perfect additions to any room in your home or office.  Whether you're looking for fun creatures to keep your child company in her nursery, or you want a client's mood to be cheerful before a meeting, Gogimogi's designs can help.
Available in a large variety of surfaces and mediums, our wall art bring positivity and humor to any setting.  Explore the Gogimogi Wall Art Gallery to see how our designs can add charm to your décor.